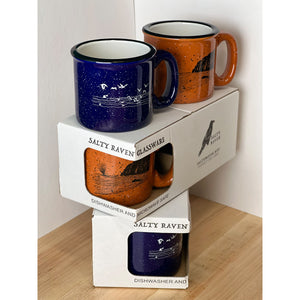 Salty Raven Glassware
Whale Sighting & Seagull Beach Ceramic Campfire Mug Set Box
Regular price
$34.00
$34.00
Whale Sighting: Inspired by the magic of coastal waters & the many creatures that reside there. Eagles soar above the ocean, Starfish hold tight on the rocks, a raven hunts the shoreline & a whale spout fills the sky. Pacific Northwest visitors & locals may recognize NeahKahnie mountain in Manzanita, OR.
Seagull Beach: This design started as a photo I took on our local beach in Cape Meares, OR. I was drawn in by a flock of seagulls taking flight along the shoreline. I really loved the way the seagulls wing patterns looked with the sea stack perfectly silhouetted out past the shore beyond them. I decided to draw it, and it became my first coastal landscape drawing & designs.
Dishwasher and Microwave safe glassware printed with my original artwork in Hillsboro, Oregon. 15oz Santa Fe Campfire Mug Grey- Printed Graphic: Black - 3.56" H x 4.125" Diameter. Set comes in our beautiful gift box!

---
More from this collection