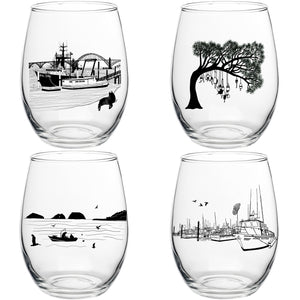 Salty Raven Glassware
Ocean Food Stemless Wine Glassware Set of 4
Regular price
$40.00
$40.00
The new cool way to keep track of "your" glass, also great for not having to decide on your favorite, customers are loving our new mixed packs!
Ocean Food 4 Pack Set = Sea Lion's Port, Salty Port, Buoy Tree, Bay Bounty.
Dishwasher & Microwave safe 15oz Stemless Wine Glasses

These make perfect new home, wedding, and birthday gifts. You can even mail to your favorite Zoom happy hour friends so you can "share a drink" in your corresponding glassware!