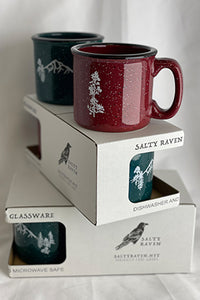 Salty Raven Glassware
Mountain Forest & Pine Tree Ceramic Campfire Mug Set Boxed
Regular price
$34.00
$34.00
Pine Tree Flock: This pine was standing alone in a vast bed of volcanic rocks at Bend Oregon's Lava Butte, the lone triumphant beauty just asked to be honored.
Mountain Forest: A lover of all things nature I have been inspired by the forests & mountains I grew up hiking around. This drawing was inspired by Mount Hood, Called Wy'east by the Multnomah tribe, It's stunning peak & surrounding forest are a crown jewel of Oregon & the Pacific Northwest.
Dishwasher and Microwave safe glassware printed with my original artwork in Hillsboro, Oregon. 15oz Santa Fe Heavy Duty Ceramic Campfire Mugs- 3.56" H x 4.125" Diameter. Set comes in our beautiful gift box!

---
More from this collection