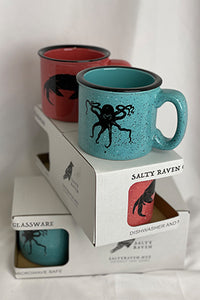 Salty Raven Glassware
Kraken Octopus & Crabby Crab Ceramic Campfire Mug Boxed Set
Regular price
$34.00
$34.00
Kraken Octopus: My oldest & best selling graphic is now a hoodie! The coolest creature under the sea! One of my favorite snorkeling experiences was swimming with an octopus in Kauai, HI for at least 20 minutes, just watching him hunt & change colors.
Crabby from Crabby Beach deserved their own spotlight! Did you know Crabby is an anti Bullying crab? She represents me not succumbing to bullying over my Crabby Beach drawing, that's why her tongue is out & she has a sassy smile.

Dishwasher and Microwave safe glassware printed with my original artwork in Hillsboro, Oregon. 15oz Santa Fe Heavy Duty Ceramic Campfire Mugs- 3.56" H x 4.125" Diameter. Set comes in our beautiful gift box!

---
More from this collection